If you're a writer or a reader, you've probably heard about Shakespeare and Company in Paris. Throughout its history, the bookstore has attracted a long list of American and international authors including Ezra Pound, Ernest Hemingway, André Gide, Ford Madox Ford, James Joyce, David Sedaris, and Donna Tartt. Here are 10 interesting facts about the  legendary English-language bookstore from Pilgrimage to Paris: The Cheapo Snob's Guide to the City and the Americans Who Lived There by Jayne Boisvert.
1. Sylvia Beach's original store at 8, rue Dupuytren (6th) was soon replaced by a larger version at 12, rue de l'Odéon, both in the 6th arrondissement.
2. Willa Cather often dropped by the bookstore on her frequent visits to the French capital.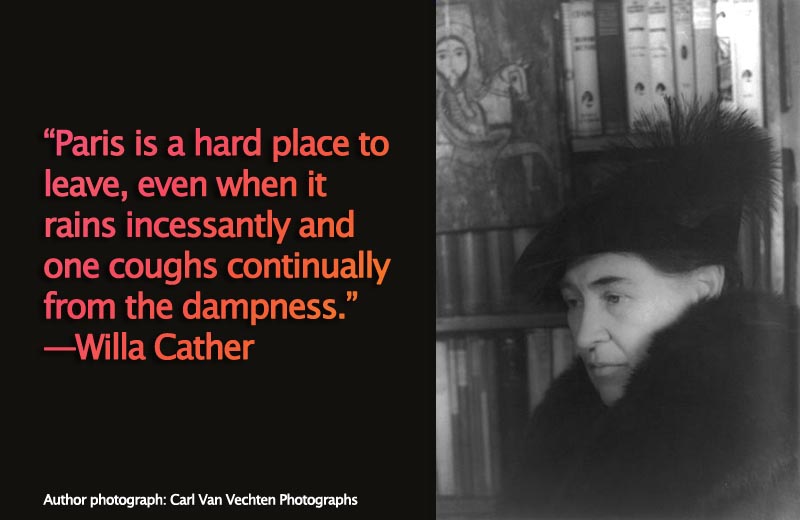 3. Sherwood Anderson noticed a copy of his short story collection, Winesburg, Ohio, in the shop's window and presented himself to Sylvia Beach.
4. The shy William Faulkner visited the bookstore but never introduced himself to Beach.

5. Archibald MacLeish knew the bookstore and Beach who introduced him to Hemingway.
6. William Carlos Williams appreciated the "unflinching kindness" of Adrienne Monnier and her partner, Sylvia Beach.

7. Katherine Anne Porter met Hemingway at Beach's bookstore in 1933.
The original Shakespeare and Co with owner Sylvia Beach and bandaged Ernest Hemingway, Paris, 1920s. pic.twitter.com/W5HUCnY0Gb

— Andy (@Andyinks) September 11, 2018
8. To honor Sylvia Beach, bookseller George Whitman adopted the name Shakespeare and Company for his store at 37, rue de la Bûcherie (5th) across the Seine from Notre Dame Cathedral.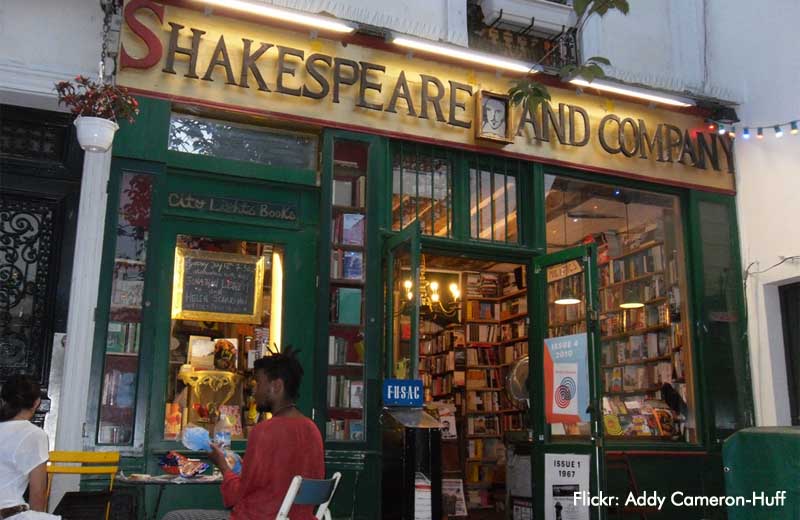 9. Bill Burroughs was a regular at the new location of Shakespeare and Company.
Shakespeare and Company: un de mes lieux préféré à Paris
Librairie indépendante située dans le 5e arr fondée par l'AméricainGeorge Whitman en 1951
Le magasin devint rapidement un centre de la culture littéraire pic.twitter.com/3kiLUe1qE3

— Laetitia Wilfert (@LaetitiaWilfert) September 11, 2018
10. Lawrence Ferlinghetti not only frequented the bookstore on rue de la Bûcherie but often found lodging upstairs on return visits to the city.
Shakespeare and Company, or the bookstore that's also a book… https://t.co/2WXm5p6BHP #Inspiration pic.twitter.com/li5KUUd5QL

— Faena Aleph (@FaenaAleph) September 11, 2018