These 5 must-read books about borders explore the meaning of borders in our world.
1. Lands of Lost Borders by Kate Harris
"As a teenager, Kate Harris realized that the career she craved—to be an explorer, equal parts swashbuckler and metaphysician—had gone extinct. From what she could tell of the world from small-town Ontario, the likes of Marco Polo and Magellan had mapped the whole earth; there was nothing left to be discovered. Looking beyond this planet, she decided to become a scientist and go to Mars.
"In between studying at Oxford and MIT, Harris set off by bicycle down the fabled Silk Road with her childhood friend Mel. Pedaling mile upon mile in some of the remotest places on earth, she realized that an explorer, in any day and age, is the kind of person who refuses to live between the lines. Forget charting maps, naming peaks: what she yearned for was the feeling of soaring completely out of bounds. The farther she traveled, the closer she came to a world as wild as she felt within.
"Lands of Lost Borders, winner of the 2018 Banff Adventure Travel Award and a 2018 Nautilus Award, is the chronicle of Harris's odyssey and an exploration of the importance of breaking the boundaries we set ourselves; an examination of the stories borders tell, and the restrictions they place on nature and humanity; and a meditation on the existential need to explore—the essential longing to discover what in the universe we are doing here.
"Like Rebecca Solnit and Pico Iyer, Kate Harris offers a travel account at once exuberant and reflective, wry and rapturous. Lands of Lost Borders explores the nature of limits and the wildness of the self that can never fully be mapped. Weaving adventure and philosophy with the history of science and exploration, Lands of Lost Borders celebrates our connection as humans to the natural world, and ultimately to each other—a belonging that transcends any fences or stories that may divide us."
2. Borderline Citizen by Robin Hemley
"In Borderline Citizen Robin Hemley wrestles with what it means to be a citizen of the world, taking readers on a singular journey through the hinterlands of national identity. As a polygamist of place, Hemley celebrates Guy Fawkes Day in the contested Falkland Islands; Canada Day and the Fourth of July in the tiny U.S. exclave of Point Roberts, Washington; Russian Federation Day in the Russian exclave of Kaliningrad; Handover Day among protesters in Hong Kong; and India Day along the most complicated border in the world."
3. Postcards from the Borderlands by David H. Mould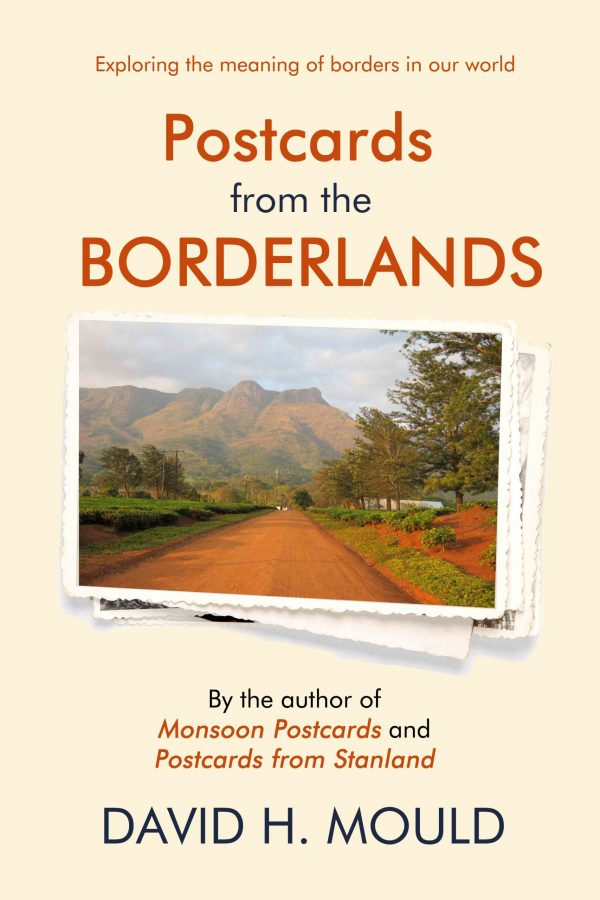 "What are borders? Are they simply political and geographical, marked by posts, walls and fences, or should we think of them more broadly? In his third book on travel, history and culture, college professor, historian and journalist David Mould rambles through a dozen countries in Asia and southern Africa by car, bus, train, shared taxi and ferry, exploring what borders mean to their peoples.
"Many countries are the artificial creations of colonial powers. Their borders, set by surveys and treaties, took no account of topography or the ethnic groups that were cobbled together. There are also borders within countries, defined by race, ethnicity, or caste. Borders may be physical and economic, even perceptual—the borders of our minds.
"On his travels, David faces shakedowns by border guards, finds old-time religion in Malawi, revisits the legacy of apartheid in Johannesburg, traverses the rivers of Bangladesh, wanders through the ancient kingdoms of Nepal, explores Malaysia's troubled colonial past, sets off security alarms in Karachi, counts yaks and discovers dinosaurs on the Mongolian steppe, savors the cuisine of Georgia and fulfills a Dr. Zhivago fantasy on the Trans-Siberian Railway."
4. Divided: Why We're Living in an Age of Walls by Tim Marshall
"Striking words. Tim Marshall performs the daunting, yet highly pertinent, task of trying to make sense of one of the biggest issues of our times: in a world that is increasingly globalised, a backlash apparently grows ever stronger. By taking a global view, Divided successfully brings some much-needed perspective" – –Northern Slant.
5. The Great Railway Bazaar: By Train Through Asia by Paul Theroux
"First published more than thirty years ago, Paul Theroux's strange, unique, and hugely entertaining railway odyssey has become a modern classic of travel literature. Here Theroux recounts his early adventures on an unusual grand continental tour. Asia's fabled trains — the Orient Express, the Khyber Pass Local, the Frontier Mail, the Golden Arrow to Kuala Lumpur, the Mandalay Express, the Trans-Siberian Express — are the stars of a journey that takes him on a loop eastbound from London's Victoria Station to Tokyo Central, then back from Japan on the Trans-Siberian. Brimming with Theroux's signature humor and wry observations, this engrossing chronicle is essential reading for both the ardent adventurer and the armchair traveler."
Receive top book recommendations directly in your inbox.
7 comments