Take a trip overseas with these 5 must-read books about life and work in the US Foreign Service.
1. The Dust of Kandahar: A Diplomat Among Warriors in Afghanistan by Jonathan Addleton
"The Dust of Kandahar represents a unique contribution to USNI's growing number of books on the conflict in Afghanistan, largely because it views events primarily from a civilian perspective. Attached to the Third Infantry Division based in Kandahar during its year-long deployment in southern Afghanistan, the author served as a link between the Embassy in Kabul and military leaders in Regional Command-South (RC-South). He was also heavily involved in outreach aimed at Afghan government officials, tribal and religious leaders and others during a time of transition marked by a significant drawdown in the size of the international military presence across the country."
2. Waiting for Rain: Life and Development in Mali, W. Africa by Lewis Lucke
"This is the story of a young and novice development professional who leaves the comfort of the US to live and work in the country of Mali, West Africa. Mali is the home of Timbuktu, the mud mosques of Mopti and a fascinating and authentic, unique culture. But is is also the home of the most intractable development problems on the planet and a country still suffering the effects of a recent major drought. Though not overly technical, this book deals with the professional challenges and personal experiences of living and trying to work effectively in one of most challenging and interesting countries on the planet."
3. From Timbuktu to Duck and Cover: Improbable Tales from a Career in Foreign Service by Lewis Lucke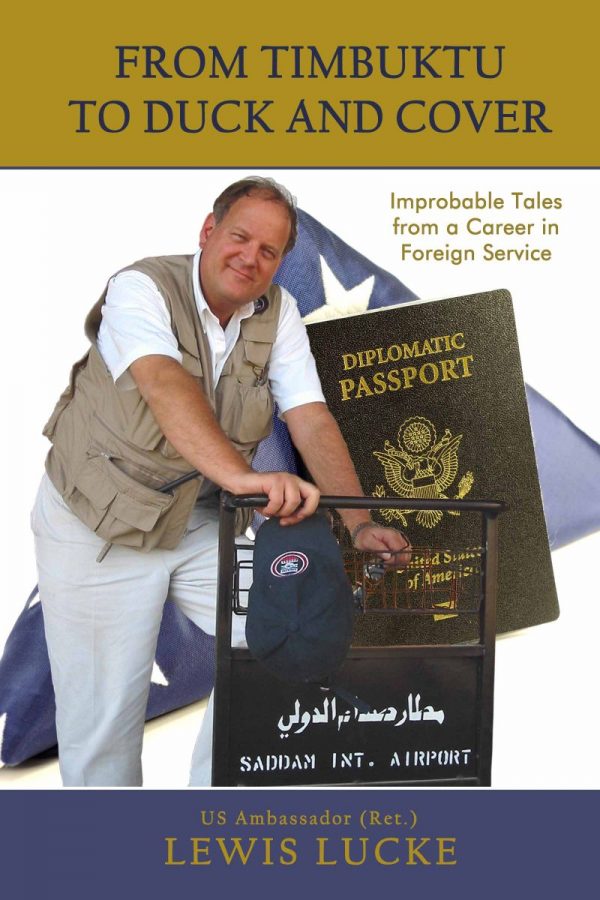 "While spending thirty years overseas in the US Foreign Service, and living in eleven countries and working in many more, Ambassador Lucke accumulated many stories that would never have happened 'at home.' His work took him to Timbuktu (twice), to places in West Africa where kids ran away in fear at their first glimpse of a person with white skin, to the scary run up to Gulf War I in North Africa, to the jungles of Bolivia and Lake Titicaca in the Andes, the fall of Communism in the old Czechoslovakia, biblical sites of Jerusalem, the passing of King Hussein in Jordan, to interaction with a few US Presidents and many members of Congress. He was thrust into the aftermath of the Haiti earthquake, deployed into the war zone of Iraq, and finally served as US Ambassador to the last absolute monarchy in Africa. His take on a thirty-year career abroad: 'It was never boring.'"
4. Our Woman in Havana by Vicki Huddleston
"Our Woman in Havana chronicles the past several decades of US-Cuba relations from the bird's-eye view of State Department veteran and longtime Cuba hand Vicki Huddleston, our top diplomat in Havana under Presidents Clinton and George W. Bush."
5. USAID in Bolivia: Partner or Patron? by Lawrence C. Heilman
"After Bolivia had received more than $4.7 billion from the US government to support 70 years of development efforts, why would Evo Morales abruptly expel USAID from the country in May 2013? The answer, alleges Lawrence Heilman, is rooted in a complex slice of history beginning with US assistance to Bolivia during World War II. Heilman explores that history from the perspectives of both the US and Bolivia, presenting a tapestry of mutual benefits and conflicting interests. He appraises the ideas and personalities that determined US foreign aid policies/programs across successive administrations; the political and economic context that shaped Bolivia's development aspirations; and the goals/strategies of the AID mission in Bolivia that guided its decisions about specific projects. The result is an in-depth picture of USAID in one country, but also important insights into US aid policy overall."
Receive top book recommendations directly in your inbox.
6 comments