The Book Reviewers Program delivers free eBooks to book reviewers in exchange for honest reviews published on the reviewer's book blog. With the permission of the reviewer, we will also publish the review here on Book Glow. Only a select number of copies are available per title. Book batches change often, so please bookmark this page to keep up to date with the latest offered titles. The current batch includes:
The Ballet Lover by Barbara L. Baer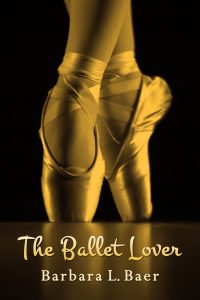 The Ballet Lover exposes the beauty and cruelty of ballet, the performances, the back stage moments, and the personal dramas of the famous ballet dancers Rudolf Nureyev and Natalia Makarova as seen through the eyes of an American female journalist.
Paris, 1970s: the orchestra plays the first ominous note of Swan Lake. In the audience sits Geneva, an American journalist and ballet lover, waiting for the heart-stopping beauty and seduction of the romantic duet to start, but instead she witnesses Rudolf Nureyev failing to catch his Russian partner Natalia Makarova, allowing her to fall with a crash upon the stage. Geneva interprets the fall as an act of cruelty, a man with all the fame and power in the world brutally letting fall his delicate, wraith-like artistic partner. When other critics defend Nureyev and accuse Makarova of causing her own tumble, Geneva vows revenge on the page, creating havoc in her own career and discovering surprising parallels between herself and the fallen ballerina. The Ballet Lover is a refined, mesmerizing, fictional account of two of the most celebrated dancers in the dance world, how one compromised the other, and how the drama on the stage often mirrors those played out in real life.
In the Weeds by Mark Ozeroff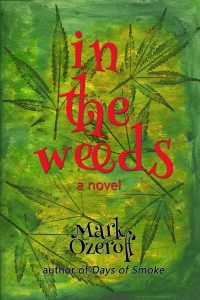 A tale of gas, grass, ass, and Vietnam.
Air Force pilot Slats Kisov's courage is audacious, his strategy is devil-may-care, and his luck is impeccable until his plane is shot down over the jungle and he sustains the "million-dollar injury"―one that leaves him no less audacious if just slightly less fertile. But war has made Slats something of an adrenaline junkie, and he returns to the States determined to live a life of harmless banditry from the cockpit of an airplane. Using his exceptional low-and-slow flying skills, he smuggles marijuana into Florida from the Bahamas aided by his friends the Morales brothers. Generally, Slats enjoys good fortune as he wobbles through life, but his luck takes an appalling turn when Bobby Ray Pistle, police chief of Farth, Florida, suspects that Slats is running weed. Pistle's bulb burns too dimly to find proof, but when the chief discovers his lusty ex has fallen for Slats, it's time to fish or cut bait. Will Slats' former battles with the Viet Cong, hijackers, PTSD, and Mother Nature prepare him for his most perilous battle of all―the one he must wage against Chief Bobby Ray Pistle? Strap yourself in and get ready for a bumpy ride. And one spectacular landing!
The Sun King by Allison Lee Palmer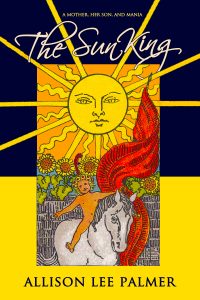 A mother, her son, and mania.
In this fictionalized memoir, a mother recounts the emotional journey she and her son take when he becomes mentally ill. Jack is known as the Sun King because as a child he resembled the illustrated boy in his mother's deck of tarot cards. Already on the verge of madness, Jack leaves for college in Ohio but secretly decides not to take his medicine. When Jack becomes manic, his mother must retrieve him from a psychiatric hospital and bring him home to Oklahoma. She and Jack spend the next year dealing with court hearings, doctor appointments, and counseling sessions precipitated by his bipolar disorder and resultant psychosis. Guiding Jack back to sanity leads his mother to a fateful decision—one that brings about her own emotional unraveling. In the end, it is the Sun King who must save his mother.
Winter Gets Hot by David M. Hamlin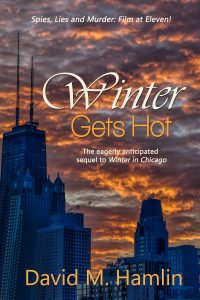 Spies, Lies and Murder: Film at Eleven! The eagerly anticipated sequel to Winter in Chicago.
Winter in Chicago journalist Emily Winter is the first reporter on the scene of a gruesome murder in the offices of CARD, a civic organization that investigates corruption in City Hall. Although she has proven herself to be a skilled reporter with at least one headline making story to her credit, her new TV boss assigns her to a more "ladylike" beat—lifestyle and feature stories. Determined to overcome the sexism that inhibits her career, Emily works her way into hard news coverage, including the story of the murder at CARD, but she faces major obstacles on all fronts as she pursues the killer. As the case twists and turns, Emily navigates the city she loves, relishing Chicago's architecture, neighborhood restaurants, culture and her beloved, if hapless, Chicago Cubs. Will she uncover the murderer and bring justice for those who depend on hard-working journalists to write the stories that define their lives? Find out in Winter Gets Hot!
A Mentor and Her Muse by Susan Sage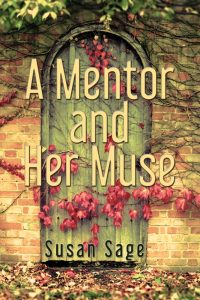 Under the guise of mentor and muse, a frustrated writer and her ambitious teenage protégé take an illicit summer road trip fraught with racial and sexual tension. This is a compelling psychological novel about social norms, artistic ambition, and obsession.
Maggie Barnett works in the media center of a school in Flint, Michigan where she meets Taezha Riverton, an aspiring teenage writer. After discovering that Maggie is also a writer, Taezha turns to her as both mentor and friend. Alone and childless, it's not enough for Maggie to take Tae to upscale restaurants and poetry readings; she has a more far-reaching vision. Although Tae's mother has nothing against Maggie, she is less than thrilled when Maggie proposes to take her daughter on a summer road trip. Permission is never explicitly granted, but shortly after school is out for the summer, Maggie and Tae head for the Southeast. Tae's mother insists that Maggie return Tae to Flint, but Maggie instead takes Tae to a remote cabin outside Asheville, North Carolina. Growing evermore emotionally unsound, Maggie clings to the belief that living close to nature is the perfect therapy for her doubts and insecurities. Yet her role as mentor has now been supplanted to that of a drill sergeant, causing Tae to have serious misgivings…
The Doubly Dead Angel-Thief by Marc Whelchel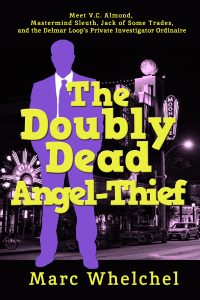 Meet V.C. Almond, Mastermind Sleuth, Jack of Some Trades, and the Delmar Loop's Private Investigator Ordinaire.
V.C. Almond's life is in the gutter. Divorced and broke, he's living in a rat trap apartment above the loudest punk music venue in the Delmar Loop. Worse, his dear friend, merry prankster Jake Kennedy, son of crime boss "Big Jamie" Kennedy, has just committed suicide. The night of Jake's funeral, V.C. returns home to find a surprise on his floor: Jake's freshly murdered, bullet-riddled body. Soon realizing Jake's double death appears destined to go unsolved, V.C. reluctantly agrees to help private detective Aldous Lewie crack the case. Stumbling upon the body of a man who's supposed to already be dead is just the first leg of V.C.'s journey down the rabbit hole. Two things soon become clear: Even in the Communication Age, miscommunication reigns supreme. And if V.C. and his band of misfits don't figure out who aced their amigo, then they will soon be sipping GrandMa in the Great Beyond.
Feta and the Fat Bastard (Whine & Cheese Cozy Mystery Series Book 3) by Judy Volhart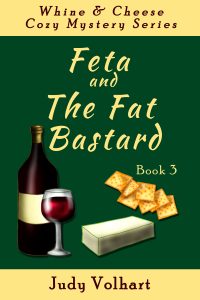 Who's gotten cheesed off this time?
Millionaire Milton is about as pleasant as a moldy block of feta, but when his juicy young wife drops dead at the Whine & Cheese Bistro, Amalia finds herself back in the thick of things. Matters are further complicated by one very handsome paramedic. Will Amalia have a new love interest? And why is Nora back with the acidic Mr. Leonardo, Amalia's arch enemy? Drugs, mafia, escort agencies and a brown and yellow Mr. Kis as Amalia's unexpected sidekick?! She's "grateful" for his help, but things are getting "whey" too strange. As the sleuthing continues, Amalia finds herself in a poisonous setting, and wonders if the wrong person was killed. Will this unlikely duo get stomped on like a bunch of grapes, or flourish like a fine wine?
Laughter and Early Sorrow: And Other Stories by Brett Busang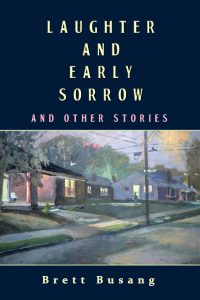 Laughter and Early Sorrow pays tribute to growing pains and the universal feelings of disappointment, wonder, and gratitude. Set in Memphis, Tennessee during the 1960s and 1970s, these nine stories provide a summation of what it's like to play without a net, face people and situations that are inherently difficult, and emerge with your vital signs intact and your curiosity paradoxically enlarged. Humorous, insightful, and heartfelt, Laughter and Early Sorrow recalls life's most indelible moments.
The Irrationalist by Andrew Pessin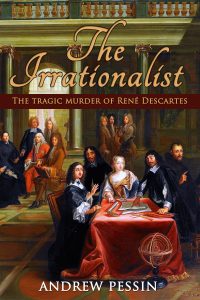 An historical murder mystery based on real events.

Who would want to murder the world's most famous philosopher?
Turns out: nearly everyone.
In 1649, Descartes was invited by the Queen of Sweden to become her Court Philosopher. Though he was the world's leading philosopher, his life had by this point fallen apart. He was 53, penniless, living in exile in the United Provinces, alone. With much trepidation but not much choice, he arrived in Stockholm in mid-October.
Shortly thereafter he was dead.
Enter Adrien Baillet. A likeable misfit with a mysterious backstory, he arrives just as the French Ambassador desperately needs an impartial Frenchman to prove that Descartes died of natural causes.
But solving the mystery of Descartes's death (Baillet soon learns) requires first solving the mystery of Descartes's life, with all its dangerous secrets … None of it is easy, as nearly everyone is a suspect and no one can be trusted.
But Baillet somehow perseveres, surprising everyone as he figures it all out—all the way to the explosive end.
Copper Sky by Milana Marsenich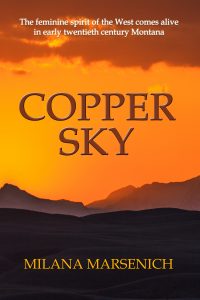 The feminine spirit of the West comes alive in early twentieth century Montana.
Set in the Copper Camp of Butte, Montana in 1917, Copper Sky tells the story of two women with opposite lives. Kaly Shane, mired in prostitution, struggles to find a safe home for her unborn child, while Marika Lailich, a Slavic immigrant, dodges a pre-arranged marriage to become a doctor. As their paths cross, and they become unlikely friends, neither knows the family secret that ties them together.
Made to Break Your Heart by Richard Fellinger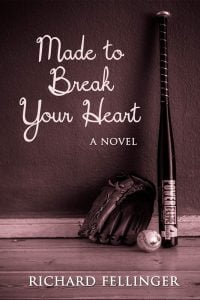 Made to Break Your Heart is a family saga, set in a gossipy suburb, that explores the complexities of raising a child, holding a marriage together, and maintaining your sanity in the cutthroat world of Little League baseball.
It's 2008, and Nick Marhoffer is a stressed-out dad who finds himself flirting with thoughts of infidelity. While his job is being threatened by a crumbling economy, he's fraught with anxiety over his only son's well-being. So when his son starts playing baseball, Nick becomes a rabid Little League dad who loses sight of what's good in his life. After developing a crush on a gorgeous team mom, he can't decide between her and his wife, then finds himself at risk of losing everything that's most important to him.
This is a smart, sexy, and funny novel about bad breaks, bad decisions, and the long road of life.
Tales from The Warming by Lorin R. Robinson
Powerful, prophetic and poignant, Tales from The Warming is an anthology of ten short stories taking readers all over the world and over time to experience—in human terms—the growing impact of climate change. Story locations range from Bangladesh to Venice, Los Angeles to Polynesia, South Sudan to Southwestern China, Mount Kilimanjaro to the Persian Gulf, Miami to Greenland. The time frame is 2022 to 2059, a period during which the world is beginning to suffer the far reaching effects of this civilization-changing phenomenon.
Sign-up

Please contact us at brp(at)bookglow(dot)net if you are interested in receiving any of these titles in eBook format (.mobi or .ePub) in exchange for a review. Not all book review bloggers will be chosen to receive free books in exchange for reviews. You will hear from us by email if you have been accepted in the program. Book Glow will not share your contact details, however we may email you from time to time—not every day, we promise—with book news and updates.
1 comment