The recipe for chicken/turkey meatball submarine sandwiches originally appeared in Judy Volhart's cozy murder mystery Swiss Cheese and Sibling Rivalry (Whine & Cheese Cozy Mystery Series, Book 4). Have you tried this recipe? Tell us in the comments section below.
Chicken/Turkey Meatball Submarine Sandwiches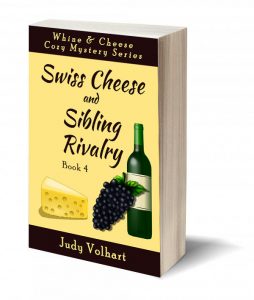 1 small package ground chicken or turkey (or both)
1 egg
¼ cup breadcrumbs ( or use 1 piece of fresh or slightly stale sliced bread torn up into little pieces- if doing this method then mix the bread and egg together and let soak a few minutes before adding to the rest of recipe)
5 garlic cloves diced small
½ small onion diced small
Few sprigs of chopped fresh cilantro and parsley or ½ teaspoon dried
1 teaspoon Italian seasoning or oregano
½ teaspoon salt
A few shakes of pepper to taste
1 jar of your favourite, good quality marinara/spaghetti sauce or make your own
4 of your favourite buns (ciabatta, mini-baguette, panini, etc)
4 tablespoons of your favourite cheese, grated
Pre-heat oven to 425. Line a baking dish with parchment paper (it just makes life easier)
Mix all the ingredients except for the sauce and buns then make meatballs out of about 1 tablespoon of meat. Bake for 13 minutes, flip them over then bake another 12 minutes.
Meanwhile, heat up your sauce of choice.  Once the meatballs are done, place into the sauce and let simmer for ten minutes
Slice the buns down the middle and place around 5-6 meatballs into each. Use as much or little sauce as you want.  If using cheese, top each with about 1 tablespoon of cheese, then broil in oven for a couple of minutes, watching closely so that it doesn't burn.
Leftover meatballs/sauce can be served over the orzo dish or used to make more submarine sandwiches.