The recipe for Swiss cheese fondue originally appeared in Judy Volhart's cozy murder mystery Swiss Cheese and Sibling Rivalry (Whine & Cheese Cozy Mystery Series, Book 4). Have you tried this recipe? Tell us in the comments section below.
Swiss Cheese Fondue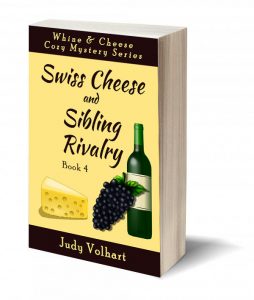 1 tablespoon butter
1 teaspoon or slightly more cornstarch or flour
1 cup milk
1/4 teaspoon salt, dash of paprika and sprinkling of dill
1 cup shredded Swiss and 1 cup shredded other cheese of choice (ex; pre-shredded bags like tex mex, or a lovely brie)
Salt and pepper to taste. A dash of garlic powder is also good.
Melt butter over medium heat and add cornstarch or flour, cooking for a minute or so. Pour the milk into this mixture and stir with a whisk until slightly bubbling then turn heat down to a simmer. Continue stirring until a bit thickened, a minute or two then add cheeses and stir until blended and melted.
If using fondue pot, keep on lowest heat setting (if it has heat settings). If using a saucepan on stove, remove from stove once everything melts and is combined
Some ideas of what to dip in the fondue:
Bread chunks (pumpernickle, sour dough, french), pita or corn chips, cubed ham chunks or cooked sausage chunks, cubed cooked potatoes, broccoli, cauliflower, fresh mushrooms
Enjoy while warm and melty
5 comments