Don't Let Me Die in Disneyland is a picaresque, smart, and smartass memoir of Harvard lawyer Eddie Loperena's Newyorican life in "the country I was offered." J.A. Marzán talks with Book Glow about the writing of the novel. The book is available from Open Books Direct.
Describe the book in one sentence.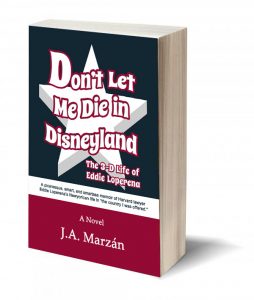 It's the memoir of someone who sees his life written out and disseminated in American society as a prefabricated distortion of both what he is and what it is.
What led you to write it?
My having grown up in what Eddie Loperena calls America, the Theme Park of Social Struggle. I know this is a very serious subject with, at times, deadly consequences, but how risible Trump now seems to the nation, the discussion on race, minorities, colors, whites, always seemed just as risible to me. I needed to write a humorous book about that subject.
How long did it take to write?
About a decade between writing other things. I had written a novella-in-stories but this was my first real novel and, as much as I thought I knew about writing, there was much to learn. It isn't a long short story, it isn't, of course, a poem. In the learning process, I wrote much more than what I finally used and rewrote a great deal.
Do you prefer writing in one genre over another?
Frankly, no. There are moments when my prose requires that I think like a poet and vice versa .
What book most influenced your life?
I am afraid that I'm going to wake up tonight remembering too late the true answer to this question. Books, aspects of them, converge into my favorite book. One that I particularly remember from my college days for several features is Ford Madox Ford's The Good Soldier, written in such a sincerely sounding voice, the narration dramatic irony so the reader should see beyond what the narrator says, so you both sympathize and also realize that he was a fool. The prose was tight, so much closer to poetry than prose poems I see published. Then there was the humor and irony of Gabriel García Márquez's prose. I was as absorbed by his sentences, their tone almost comic and almost tragic and the hook of his ironic imagery. The stories are engrossing, his world, of course, literally marvelous, but I was fascinated by his ability to just make you want to read him. I think this feature is best illustrated in his shorter works, without the epic dazzle of his more famous novels although The Autumn of the Patriarch, written as one long sentence, has him gloriously showing off.
Where do you write?
Anywhere. At home. At a café. On a train or plane.
Is there any one thing that especially frustrates you about the writing process?
The times when the writing comes in layers or phases, which happens with most projects. I think I know what I want to write about but end up writing really to find out exactly about what and what I really want to say. I think that something is written, but a critical voice in my head says, not really. Another sign is that my writing sounds mediocre and uninteresting to me. What I had written was just a step toward writing about what was really motivating me. Only when I finally perceive sharply what my true subject is and what I want to say about it does my best writing kick in. Perhaps because, clear about my subject, I can be as precise in my sentences.
Any advice for novice writers?
I presume you mean writers of fiction. Writing fiction, as in every endeavor has it its specialties, the language, the characters, the setting, the plot, the conflict. To illustrate, I am not a fan of science fiction. I have browsed some top best sellers in science fiction that, frankly, are written in language that is boring to me. Scifi audiences read for the worlds they discover. I understand there are also the literary kind of scifi author but that's another matter. One can be successful and be a very basic, unliterary scifi writer. My point is that one doesn't write for everybody and one should cultivate a strength in one's particular kind of writing because your readers will be those charmed by that strength.
What's next?
Because my writing develops more organically than inorganically, I put things aside while I work on other writings, usually poetry or nonfiction, and I also start new things so my next is usually a lateral move. Ideas for a couple of possible novels, however, have planted themselves. Hopefully they'll sprout. Meanwhile I'll be finishing two books of nonfiction.