An easy-to-use guide devoted to Paris, Pilgrimage to Paris: The Cheapo Snob's Guide to the City and the Americans Who Lived There includes travel tips, main attractions, free (and nearly free) things to do, shopping, museums, churches, cafes, and restaurants. The book also provides short biographies and addresses associated with famous Americans—writers,  journalists, politicians, musicians and performers, artists and architects, and several other interesting people who don't fit neatly into typical categories—who spent time living la belle vie in the French capital. Jayne R. Boisvert talks with Book Glow about the writing of the guidebook. The book is available from Open Books Direct.
Describe the book in one sentence.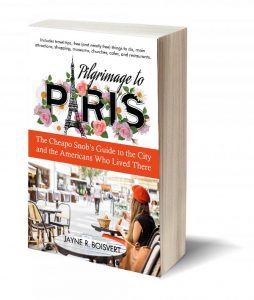 This guidebook to Paris includes tips for visiting the city plus short bios and addresses of famous Americans who once lived there.
What led you to write Pilgrimage to Paris?
My son and a friend each gave me part of the idea. One called me a "Cheapo Snob" and said I should write a guide to the city I love. The other told me to include celebrated Americans since a bookseller on the Right Bank had spoken of frequent requests for such a book.
What do you like about Paris?
I love learning about the city's history and enjoy going to its museums, monuments, and parks. My favorites, I'd have to say, are Notre-Dame and the Luxembourg Gardens. I never get tired of visiting those two places.
How long did it take you to write the book?
About four years which included about a year doing substantial revisions.
Do you prefer writing in one genre over another?
This non-fiction work is my first attempt outside of literary criticism.
Writers of fiction make up the majority of Americans you describe in your guide; did researching them compel you to read any of their books?
Yes, since I was a French major in college, I was unfamiliar with many of the American classics. Over the past few years I took the opportunity to read some Hemingway, Faulkner, Fitzgerald, and Steinbeck. I especially enjoyed works by Edith Wharton and Henry James.
What book most influenced your life?
It's hard to pinpoint one particular book that had a big influence on my life. Two novels immediately spring to mind: Antoine de Saint-Exupéry's Night Flight and Albert Camus's The Plague. The first deals with the original airmail pilots in Argentina and the second with a doctor dealing with the plague in Algeria. Both books describe individuals who have the courage of their convictions and are willing to sacrifice personal considerations for a bigger cause.
Was there anything in your research that surprised you?
I suppose it was the number of architects who went to the École des Beaux-Arts in Paris. Some of my favorite buildings in this country were designed by former students at that school, like Charles Follen McKim, Richard Morris Hunt, and Henry Hobson Richardson.
Did you learn about any new people?
I did, including authors Chester Himes and Glenway Wescott. There were also many impressive women who were new to me: Ada "Bricktop" Smith, an African-American, who was the toast of Montmartre at her cabaret; Loie Fuller, a modern dance pioneer; Mary Putnam Jacobi, the first woman admitted to medical school in Paris.
Where do you write?
Usually sitting at my desk though I have been known to sit in an armchair with my laptop to write.
Is there any one thing that especially frustrates you about the writing process?
At times it's getting the sentence to say exactly what I mean.
Were there any parts of the book that seemed easier to write than the rest?
Yes, for some reason writing about authors who had a humorous side—Mark Twain, Art Buchwald, A. J. Liebling, Dorothy Parker, David Sedaris—seemed to just flow onto the page. I suppose I was inspired by their light-hearted touch.
Who were the most difficult people to write about?
The most famous, by far. People like Gertrude Stein, Ernest Hemingway, and Scott Fitzgerald are very well known and so much has been written about them. It made it hard to condense their bios to around 200 words.
Any advice for novice writers?
It may seem obvious but it's important to write a lot—as much as you can, any way you can. Having a blog is a very good way to help develop your voice, but all forms of writing have a part to play in the process. Another bit of advice is that, once you have your manuscript how you want it, believe in it and don't give up trying to find a publisher.
What's next?
I keep discovering so many other Americans who lived in Paris. In the future I might consider updating my book, adding to the 90+ people already included in it.
6 comments