Inspired by a true story, Rosemary in Bloom explores faith, forgiveness, enduring love against all odds, and the difficult decisions that strong, smart women on the home front had to make during World War II. Khristy Reibel talks with Book Glow about the writing of the historical novel. The book is available from Open Books Direct.
What led you to write Rosemary in Bloom?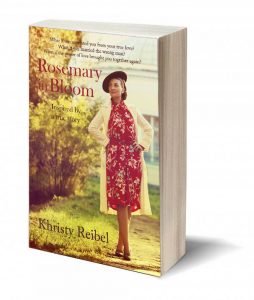 I thought my grandmother's life was fascinating and always told her someone should write a book about her. So I did! I took the basic facts of her life and used my imagination to fill in the rest. I love historical fiction. I like researching and learning about a time period and then the challenge of fitting my narrative into the particular circumstances of that era.
How long did it take to write?
From beginning to publish, it has been 10 years. I wrote much of the first two sections in three months. The third section took longer because I had to create most of it instead of relying on actual events. There were also many edits as I let family members read it.
What book most influenced your life?
As a child, I was influenced by everything written by Judy Blume. As an adult writer, Beloved by Toni Morrison. For inspiration in creating my protagonist for this novel, I was influenced by Gone with the Wind.
Where do you write?
I will write anywhere there is a computer when the inspiration strikes—at home, work, coffee shop. To help the writing process, I like to listen to music from the time period because music helps me to connect and feel the characters from the era.
Is there any one thing that especially frustrates you about the writing process?
The most difficult aspect of writing for me is editing, specifically deciding what to pare down and what needs to be added for clarification. I want to create a story that moves, but I also love to write beautiful, poetic prose. It's a delicate balance.
Any advice for novice writers?
Read! Read, read, and read more. Decide whose style you like—and as importantly, whose you don't—and get inspired!!!! Write because you love it but don't get discouraged by the publishing process. Keep honing your craft and the rest will come.
What's next?
As a teacher, I want to share my success with my current and former students and encourage them to write. As a writer, I have an idea for a novel set in 18th century Germany and America—a story of people emigrating but for very different reasons.